Jackson Tarricone
January left music fans with a lot of material to delve into. We probably have a year's worth of music already, or at least we are close after a very busy introduction into the music of 2019. Having said that, it's very likely that some good projects may have slipped through the cracks, not getting heard by as many people as perhaps they ought to be. Out of the many releases, here are the 5 EPs that you may have missed, but should get a lot of playing time. Stay tuned for later in the week for 5 full-length albums you might have missed as well.
Joy Crookes-Reminiscence EP

Joy Crookes delivers once again on her latest EP, following her EP from last year. The combination of playful synths and 808s with guitars and deep bass allows for Crookes to sing comfortably while maintaining momentum. Crookes easily gets into character in her songs, singing smoothly and earnestly. Her delivery on "Two Nights" is phenomenal. "Man's World" has a somewhat theatrical quality about it as Crookes' voice dances over piano chords and an R&B rhythm section. The song also conveys a sense of female empowerment, a theme that is found throughout her work. "Don't Let Me Down" is the standout track. Although it is labeled as a demo, having merely guitar to accompany her beautiful vocals, it certainly does not come across as unfinished; it is soulful and serene. With Reminiscence, Crookes has left fans craving a full-length release from her soon.
Ben Issac-Ballad of a Spaceman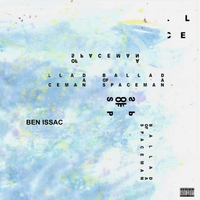 This is the first semi-full length release from the Long Island native. Issac sings about the psyche of the artist on "Uncreative" the best track on the EP, singing that "we don't see the same things in the same things," that the perspective of artists is fundamentally different from other people. "Mad" starts very lightly, but it dramatically shifts into a hard-hitting banger just past the halfway point of the song. Issac also exhibits his prowess as a producer by manipulating the sounds on this track, creating a glitch effect towards the end. The interlude is a bit lo-fi, but it is a good segway between this track and the title track, which is completely different from the other songs. This is definitely a worthwhile listen for fans of most genres, from synth pop and RnB to hip-hop as it is a great mix of these genres in only 6 tracks.
Sunflower Bean-King of the Dudes
This EP is somewhat of an homage to the garage rock of the '70s and '80s as well as the reinterpretation of the genre in the early 2000s by bands like The Strokes. However, it is by no means a rip off a la Greta Van Fleet and it certainly does not feel dated. This is largely due to the female vocals of singer and bassist Julia Cummings and the very contemporary vocal melodies. The production also aids in bridging the generational gap between the style of the EP and current music. The title track, "King of the Dudes," hits very hard and is very catchy. While it is certainly raw, it the nuances of the production and the arrangement, which include some very swift changes of dynamics, ensure that it has real artistic value. "The Big One" also sees the group's take on old school punk, which they execute very well. If a full-length LP of material like this were to be released, it would be held in the same esteem as Joan Jett's "I Love Rock 'N' Roll" and The Strokes' "Is This It."
Horace Bray-How It Ends
After releasing a full-length modern jazz album only 3 years ago, Bray has undergone quite the metamorphosis, opting instead for a more laid-back singer-songwriter pop approach on this project. Bray is an excellent guitarist, wielding not only incredible technique but also a deep understanding of theory; he uses far more of the latter on this release, with the songs being simple but still very interesting. The title track, "How It Ends," has a great structure, ending "with a flicker of how it began," as Bray sings. The song and EP are primarily driven by acoustic guitar, which makes the brief moments where there is electric guitar all the more meaningful. The production is also excellent, with harmonies that are not just tight but also colossal in their sonic width. "Bo Has Died" is a beautifully poignant piece about the death of an old man and the retracing of his life, which he says is "not much, but I know it's mine." As you can see, the lyrics on this project are phenomenal from beginning to end. This EP, due to its thematic cohesion, sheer beauty, and Bray's endearing voice, is accessible to all.
James Supercave-Alarm Will Sound
The California trio, after not releasing anything since their excellent 2016 album "Better Strange," began releasing a handful of singles last year such as "Come Alone" and "Fools." These songs left fans wanting more, and they have delivered with this excellent EP of ominous synth pop and groovy alternative music. Singer Joaquin Pastor's delivery is as charismatic as ever, as his falsetto, combined with whatever groove he is singing over, is hypnotic. The bass also cuts through the mix very well on this EP, adding substance and clarity to each song. The very simple guitar riff on "Come Alone" adds an element of syncopation during the song's chorus. The synth solo on "Something To Lose" seems to swallow the entire mix only to spit it back out before the chorus; this is one of the highlights of the EP. In addition, this track also features the EP's most dance-oriented groove similar to Miike Snow and MGMT, as well as several hooks and refrains, all of which are very catchy. The extra percussion that pans from left to right, and the drum production on this song in general, is excellent. James Supercave is at their best when they incorporate both acoustic and synthetic instrumentation along with their unique melodies and production style; they do all of this and more on this EP.